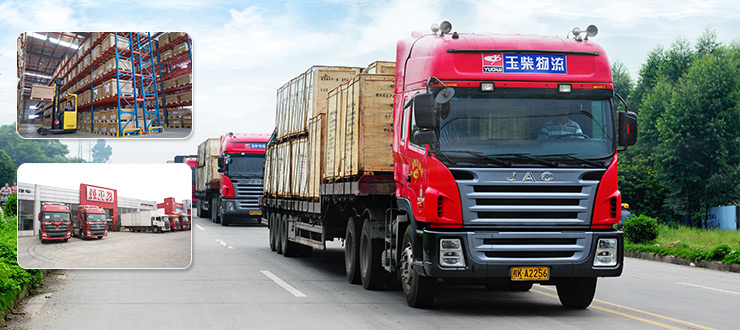 Guangxi Yuchai Logistics Group Co., Ltd. (Yuchai Logistics) is a business group engaged in logistics service and automobile trade service, a key road transport enterprise contacted by the Ministry of Transport, a national 5A logistics enterprise and one of China's top 100 automobile dealer groups. It owns the national first-class qualifications for road freight transport and trans-national road freight transport.

Yuchai Logistics' key businesses include general road freight transport, warehousing, regional distribution, production distribution, heavy cargo transport, international freight forwarding, logistics finance, logistics park development and operation, logistics e-commerce, logistics information consultation service, supply chain integration, automobile sales as well as automotive aftermarket services such as automobile maintenance and automobile finance. The company has established over 100 branches and subsidiaries in cities such as Beijing, Hong Kong, Hangzhou, Chengdu and Nanning, thus forming a national road freight transport network and logistics service network centering on Guangxi and supported by large and medium-sized cities, and an automobile sales service network covering Guangxi. The company deals in over 10 renowned auto brands such as Dongfeng, DFLZM, Shanghai Volkswagen and Beijing Hyundai and five import brands such as Benz.

In the future, Yuchai Logistics will focus on industries such as automotive parts, aftermarket products, consumer goods, energy & chemical products and construction machinery, vigorously develop deep industrial chain services in ways such as industrial park, warehousing, break bulk distribution, home delivery, multimodal transport, transport capacity integration, multi-industry operation and e-commerce, build regional core competitiveness, and form a logistics network centering on Guangxi and radiating China's key economic circles and the ASEAN, thus becoming a world leading integrated supply chain service provider. Besides, by adding sales auto brands and extending service network, the company will be built into a branded automobile dealer in Guangxi and a leader in the automobile aftermarket.