A few years ago, Yuchai generator set had a market share less than 10%. Currently, its market share in Hunan generator set market has exceeded 50%, Yuchai becomes one of the most influential brands. Besides its high product quality, Yuchai's rise is also due to the efforts of Hunan Shanli Electromechanicals Co., Ltd.Hereinafter referred to Hunan Shanli.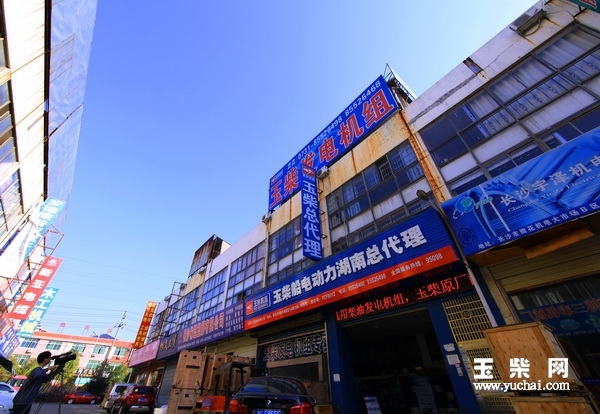 The annual target is achieved for the first three quarters
When talked about why Yuchai ship electrics are become popular, Pu Shexing, the vice general manager of Hunan Shanli said, "Compared with high end brands, Yuchai enjoys a price advantage; when compared with general brands, Yuchai enjoys an advantage whether it is oil consumption or emission. The remaining market share is low end products, it is about seven tenth of the whole market. As the whole market develops, this part is shrinking gradually.
It is known that in 2008, Hunan Shanli was founded, and its ship electrics sales volume is just around 100 sets. After a couple of years development, today's Hunan Shanli has sales volume exceeded 1000 sets. In 2014, Hunan Shanli has set a sales target of 1200 sets for ship electric products.
" This year the market is relatively optimistic, we completed our sales task for the first 3 quarters, the ship engine sales is over 500 sets, and the single generate set is sold more than 700 sets." described by Pu Shexing to the reporter with proud.
Hunan Taohuajiang Yacht Manufacture Company Limited is a big client of Hunan Shanli, its director, Zhang Youjun has been deeply impressed by Yuchai ship engines, he said, Yuchai yacht engine is a professional, efficient and stable products, low oil consumption and environment friendly, it is trusted by its users.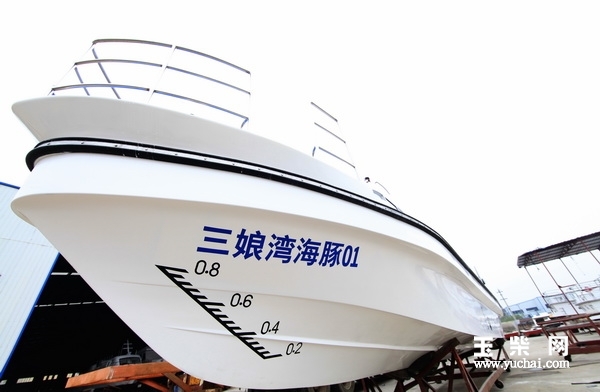 A yacht fitted with Yuchai yacht engine is under construction
Agency and assembling generator set with Yuchai engines are Hunan Shanli's main business. According to the estimate of the general manager of Hunan Shanli, only by the single generator, the sale volume has increased 70% compared with the last year. Besides Yuchai's reliable quality and wide range of matching parts, the increase also relies on the Hunan Shanli's active operation of market from the beginning of the year. Luo Zhigao associates the achievements with the harmonious relation with generator set part dealers of Hunan province.
In the future, Hunan Shanli has greater ambition; it will integrate actively the generator set market of Hunan based on Yuchai brand.
Operate Yuchai brand heart and soul
For the achievements of Hunan Shanli, Pu Shexing said with no concealing:" This is the outcome of what we committed to Yuchai brand. "
The" heart and soul" is not exaggerated; Shanli'S performance is the best proof. Since the beginning of the year, Shanli has been actively operating the market; they use region management and developing secondary agent mode to help with the increased sales volume of Yuchai generator engines. In the peripheral area of Changsha, they divide the area into regions, and place a business man for blanket type search for orders; for the remote areas, they set the secondary agents. Currently, Hunan Shanli has developed more than 10 secondary agents, 60% of the single generator engine sales is completed by the secondary agents, the sales network plays a critical role for the sales. According to the estimate of Pu Shexing, the single generator engine sales this year in Hunan market will reach to 900--- 1000 sets.
The products can wait for the customers, But not the customers wait for the products. This shows from another side that Hunan Shanli can guarantee the capability for timely supply. The market change is instant; a businessman won't miss any single chance. Hunan Shanli is no exception; the reason that it can seize every chance is its sufficient inventory level. According to Luo Zhigao, Hunan Shanli, the company not only has outdoor warehouse, but also establishes a storehouse more than 1000 square meters.
Large inventory brings huge fund pressure." Large inventory not only guarantee the supply for secondary agents but also provides customer with confidence. " said Luo Zhigao
Service is also another magic weapon of Hunan Shanli. According to Pu Shexing, the company provides food and accommodation for the service crew recruited and buys them double insurance, and also provides competitive wages, the enthusiasm of the service crew is high, their service quality is high and seen. Previously, the sales promote the service, but now the service promotes the sales.
Speak of the activeness of the service crew, Chen Lijun, president of Hunan Shanli, told us a story: once he went to meet a client in a rush to catch the plane.  But he waited for a taxi for long at the road side after he left the company, and there is no taxi, he was getting worried. At this point, he saw a service car printed with Yuchai coming over, he summoned and stopped the car, it was Xiaoyang, one of their service crew. He had the intention to let Xiaoyang to drive him to the airport, but after he learned that Xiaoyang was also in a hurry to provide after service to the client, he sent him on his way and reminded him of safe driving.
After this, Chen Lijun appraised Xiaoyang's awareness for customer first and zeal of service. He said, Xiaoyang's word Boss, I need to run to reach the client to provide service really touched me. If all our service crew has this awareness, would we bother to worry about a bigger market share?
Furthermore, to let customer accept Yuchai brand, Hunan Shanli also conducted propaganda and generalization. Besides the traditional advertisement and generalization seminar, this year Hunan Shanli also set up blog platform, a blog propaganda channel for themselves. During the interview, manager Zhou of Hunan Shanli also showed us their new client app. She said Hunan Shanli is exploring how to use this platform to deliver service information to each customer, to support the active service.
The active service would change" Customer asks for service" to " We actively to provide service to customer without making customer wait at any time", this may be Hunan Shanli's experience based on years of operating, but how come this is not a standard for Yuchai if the company wants to make its ship electric business bigger and stronger.
Yang Mingze