On March 11, Yuchai held the meeting of leaders & handover ceremony of the chairman of Yuchai. Yan Ping will no longer be the chairman of Yuchai as he has reached the statutory retirement age. Li Hanyang, Secretary of the Party Committee of Yuchai, will serve as the Chairman of Yuchai.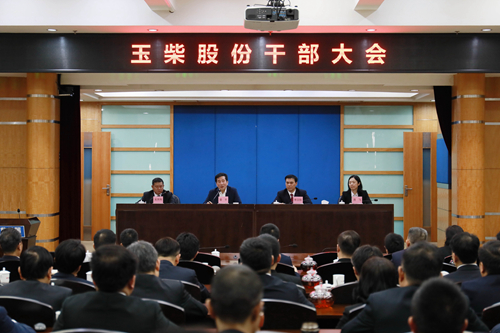 The meeting summarized and reviewed the brilliant achievements of Yuchai under the leadership of Yan Ping over the past 16 years. During his tenure in Yuchai since 2005, Yan Ping has led Yuchai to overcome difficulties, achieve new highs and work Yuchai miracles with his excellent leadership and awareness of reform and innovation-driven development.
During his tenure, Yan Ping successively proposed the core strategic concepts of "Green Development & Harmony Win-win" and "Superior Quality & Global Yuchai". Under Yan's leadership, Yuchai has successively achieved the goals of "Building Another Yuchai Group in Three Years", "Building Another Two Yuchai Groups in Five Years", and "Three-year Quality Improvement by 100%". During the bottleneck period of Yuchai in 2014 ~ 2015, Yan planned and promoted the customer-centered "second startup" program with market and product transformation as the main line, intelligent manufacturing and technological innovation as the basis, and quality and efficiency improvement as the goal, greatly enhancing Yuchai's core competitiveness in product R&D, market development, manufacturing upgrade and international cooperation, and realizing more and more steady internationalization of Yuchai. From 2005 to 2020, Yuchai sold more than 6.5 million engines, achieving sales revenue of CNY 300 billion.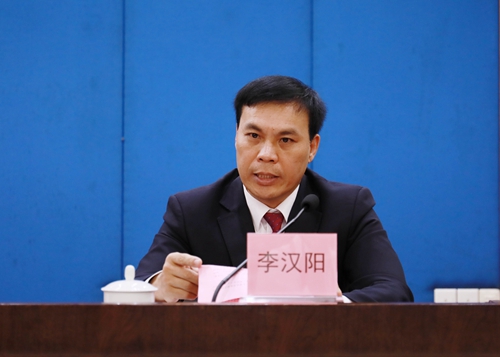 At the meeting, Li Hanyang made an emotional, concise and pragmatic inaugural speech. Li said that Yan Ping has accomplished both success and fame and brought benefit to everywhere during his 16-year tenure in Yuchai, leaving a great wealth for Yuchai. These 16 years of Yan Ping are wonderful without regrets. These 16 years are worthy to be storied. Every Yuchai people will miss these 16 years. Yan Ping is a role model for Yuchai's management leaders.
Li said, "As the new chairman of Yuchai, I'm well aware that there are a long and rugged way to go, many difficulties to overcome, great responsibilities to fulfill and glorious missions to undertake in the future. No matter what difficulties I will encounter in the future, I will definitely stick to the leadership of the Communist Party, carry forward the excellent corporate culture and advanced management methods proposed by Yan Ping, maintain the most flexible mechanism, unite all management leaders, gather the strength of all employees, share weal and woe with everyone, do my best and work hard for the cause of Yuchai and the revitalization of China's traditional national industry".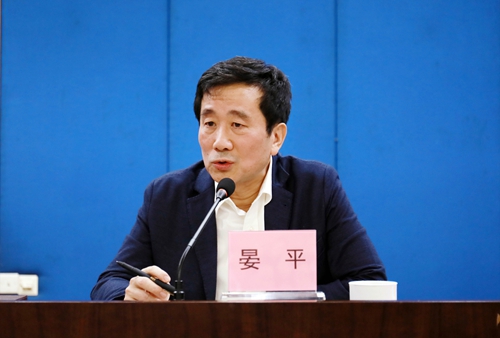 Yan sincerely recalled his 16 years in Yuchai, and reviewed Yuchai's innovation-driven development achievements in product transformation and upgrading, system restructuring, talent team building, internationalization and enterprise culture building. He said, "I love Yuchai very much and owe my loyalty to Yuchai. I have dedicated my brightest and most valuable youth, enthusiasm and wisdom to Yuchai. Yuchai has the most trustworthy comrades-in-arms, the most united team, the best culture, the foundation to catch up with the world-class standard, and the ambitious strategic goal ahead of time. Yuchai has a remarkable history and a bright future".
Yan encouraged the new leadership team represented by Comrade Li Hanyang to strive for new progress by building on past achievements, work diligently and pragmatically, make innovations in the mode of opening up, embrace responsibility with passion, act with courage and determination, and make every effort to bring Yuchai to a higher level of development. Yan Ping said he will continue to care for and support Yuchai's development in the coming days.
Wu Qiwei, President of Yuchai, made a statement on behalf of Yuchai's management team. He said that Yuchai's management team will unswervingly implement the decisions and deployment of the superior organization and the company and fully support the work of Chairman Li Hanyang. Under the leadership of Chairman Li Hanyang, the management team will forge ahead with courage, embrace responsibility with passion, make innovations and breakthroughs while carrying forward Yuchai's achievements, make concerted efforts to win the battle of upgrading to China VI emission standard and T4, jointly promote the realization of medium and long-term strategic goals of Yuchai as scheduled, and continue to write a new chapter in high-quality development of Yuchai.