On August 23, Yuchai Group and China Mobile Group Guangxi Company Limited (China Mobile Group Guangxi) signed a strategic cooperation agreement, based on which both sides will jointly promote the construction and development of Yuchai 5G industrial Internet application project. Yan Ping, chairman of Yuchai Group, and Lu Zhihong, general manager of China Mobile Group Guangxi, attended the signing ceremony.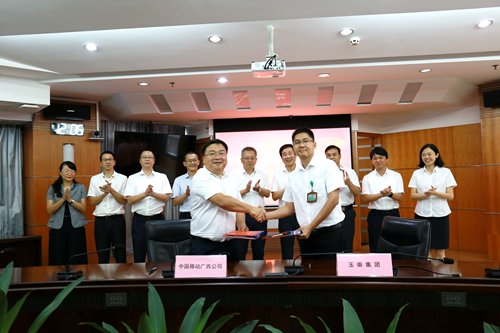 With its fast commercialization, 5G, a new generation of information and communication technology, will help promote the innovative development of industrial Internet and facilitate the rapid transformation and upgrading of industrial digitization of manufacturing enterprises. By seizing such an opportunity for major development, Yuchai Group and China Mobile Group Guangxi established a strategic cooperative partnership, enabling them to exploit the advantages to the full in their own industry and enterprise. Meanwhile, they strengthened cooperation in 5G industrial Internet application projects, such as intelligent manufacturing information system, big data project, IoT platform and smart industrial park.

In the ceremony, Lu said Yuchai Group was a representative of advanced manufacturing enterprises in Guangxi, so China Mobile Group Guangxi would give full play to its leading advantages in Internet infrastructure construction, technical innovation, resource integration and other businesses, and provide 5G industrial Internet application construction for Yuchai, thus sparing no effort in helping it realize digital transformation as soon as possible. He added that before the ceremony he visited Yuchai Group which boasted state-of-the-art technology and manufacturing equipment. He had full faith in the cooperation and thought that Yuchai had a promising future.

Yan indicated that with the advent of the era of China VI, Yuchai is expediting its pace in construction of intelligent, interconnected and digital factories. Through this opportunity of cooperation, Yuchai Group will fully take advantage of 5G construction project to work with China Mobile Group Guangxi to improve information platforms featuring big data, such as Internet of things, Internet of vehicles and smart industrial park and enhance the intelligent management and manufacturing level of Yuchai, thus accelerating its speed to go global. He expected that the cross-border integration of both sides could help them achieve high-quality development and create more value for customers.

Before the ceremony, Lu and the management team of China Mobile Group Guangxi also visited Yuchai Rapid Manufacturing Base, Production Workshop of Casting Department, Test Center of Engineering Research Institute and the workshop of Marine & G-drive Engine Department, learning details about Yuchai's product R&D, manufacturing level and intelligent management, etc.


(Chen Yinghui)