On July 4, 2019, a great many graduates from universities countrywide joined Yuchai, including 10 master graduates and 343 undergraduates, among whom 35 and 61 are from universities listed in China's 985 and 211 key university national projects respectively.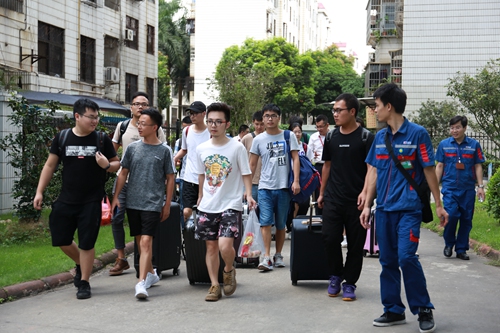 Compared with previous years, two innovations were made in entry registration of new graduate employees: First, before their registration, tips for entry guidance, plane graph of Yuchai, registration process and life in Yulin were sent to them through the WeChat public account "Yuchai Talent" and WeChat groups of employers and college graduates, thus making them know registration notes and surroundings in advance. Second, prepaid cards for water, electricity and meals were prepared for them in advance and their work clothes were put on their beds, which has greatly streamlined entry registration processes and showed Yuchai's humanistic care.

Zhang Zhengyu, a graduate from Hunan University of Technology, said, "I am a native of Yulin. I have learned of Yuchai since I was a child. Then, I came to know it on a gradual basis. I chose Yuchai because I knew it, believing that it is an enterprise that can make my dream come true. In addition, my parents are about to retire, so I can take better care of them when going back to my hometown."

Before registration of college graduates in Yuchai, staff members had already made overall arrangements for their apartments, providing them with a clean, tidy and comfortable environment to live in. The staff members also reminded newly-recruited graduate employees that they should have a good rest after a long journey, and recommended them to have a light diet in recent two days, so as to adjust bodies to a better state to be prepared for the physical exam. They hope that these new employees can start a new journey in life and fully realize their dreams in Yuchai.


(By Lin Haifu)