On June 26, the World Brand Summit, sponsored by World Brand Lab, kicked off in Beijing, China. Yuchai climbed to the 102nd place with brand value of RMB 50.569 billion, topping Chinese internal-combustion engine industry and its counterparts in Guangxi Province, according to the China's 500 Most Valuable Brands in 2019 released in the summit.

The China's 500 Most Valuable Brands is based on business finance, consumer's behavior and brand strength analysis. Since making the list in 2006, Yuchai has its brand value climb year after year, leading the industry for 14 years in a row, which is the embodiment of the powerful comprehensive strength of Yuchai, and also a recognition of its product quality, industry influence and brand awareness.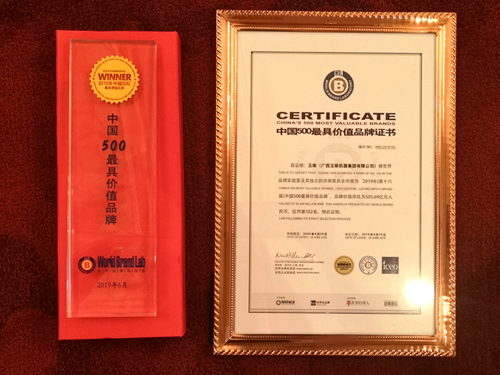 In 2018, against the backdrop of a complex and severe international environment and slowing economic growth, Yuchai, which was managed by the Guangxi Zhuang Autonomous Region, pushed forward its second business startup in an all-round and in-depth way. In this way, its internal driving force continued to grow, with the highest-ever profits. Yuchai's joint venture and cooperative projects with a large number of well-known international companies such as MTU, Eberspaecher and UST have been launched widely, expediting its course of going global and laying a solid foundation for the construction of an industrial cluster worth RMB 100 billion.

Especially in product and technical reserves, Yuchai always insists on customer-centered philosophy and continuously explores technological innovation, launching four new-energy power systems (including whole-series China VI engine, non-road China IV engine, e-CVT power-dividing hybrid powertrain and fuel cell) leading power demands of the industry and establishing the technical route of multi-energy power to reach the world's advanced level.

In the future, Yuchai will continue to make innovations in products and services and cultivate core competitiveness to make its voice heard in the world arena.


(Chen Yinghui & Liu Ming)