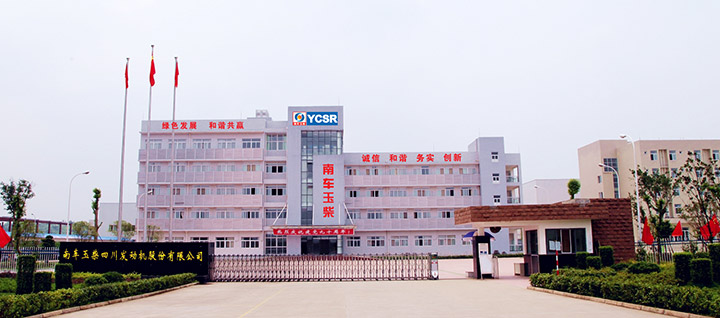 CSR Yuchai Sichuan Engine Co., Ltd. (YCSR) was founded on March 7, 2011 with a joint investment from CSR Corporation Limited, Guangxi Yuchai Machinery Group Co., Ltd. and Sichuan Nanjun Automobile Group Co., Ltd. With a registered capital of 300 million yuan and over 1,000 employees, located in Ziyang, Sichuan Province, it is western China's only professional engine manufacturer in four fields: locomotive, ship, vehicle and onshore power generation.

YCSR advances with the times in technical innovation, shares Yuchai Group's achievements in high-speed engine R & D and technical progress, undertakes the tremendous R & D, manufacturing and equipment resources of CSR Ziyang Locomotive Co., Ltd. as well as the manufacturing technologies and market resources of Yuchai Group for high-speed engines, adheres to the strategy of technical innovation combining independent innovation with technology introduction, and fast launches independently developed products to ensure that the company's medium & high-speed engines are up to domestic leading standards. The company's key products include NY210, NY320, NY240, NY280, YC4D, YC4E, YC4G, YC6J, YC6A, YC6G, YC6L, YC6M, YC6T and YC6C medium & high-speed marine engines, locomotive diesel engines, vehicle diesel engines and gas engines whose power ranges from 40kW to 9,000kW. Of these products, large-power medium-speed engines have been widely applied in domestic railway, metallurgical and marine projects, and been exported to countries like Central Asia, Southeast Asia and Central Africa.

YCSR has a strong capacity for engine manufacturing, owns over 1,000 units (sets) of advanced equipment imported from countries like Germany and Sweden such as body, connecting rod and cylinder head processing centers, has established the mature and perfect engine matching system, technology improvement system, quality assurance system and after-sales service system, has developed the first-rated capacity for quality assurance, and has been capable of turning out 350 large-power medium-speed engines and nearly 100,000 small-power high-speed vehicle engines annually. With a total investment of 3 billion yuan and an output value of over 10 billion yuan, as technical renovation is fully completed, the company will develop an annual manufacturing capacity of 1,000 large-power medium-speed engines, 200,000 small & medium-power high-speed engines and parts worth over 2 billion yuan by the end of the "twelfth five-year" period.

With the mission of leap, the concept of "Green Development & Harmony Win-win" and the spirit of "integrity, harmony, pragmatism and innovation", YCSR will be committed to becoming a domestic first-class and internationally competitive professional engine development and manufacturing base which is largest in western China, and providing economical, reliable and quality green engine and complete system power solutions to China and the world, so as to fulfill the dream of "equipping China and powering the world".